Welcome to FROST BITES


What is Frost Bites?
FROST BITES is Hamilton's only site-specific, winter performance festival. The event features a diverse array of hot Canadian artists presenting performance "bites" in unconventional spaces, promising to heat up Hamilton during the coldest month of the year. The original festival was presented February 11-14, 2021 with many sold out performances. A reboot is running March 11-14, 2021, featuring all performances except for Bathtub Spaceship.
How does it work?
FROST BITES 2021 offers participatory and interactive experiences that are focused on building a sense of community and connectivity, bringing us together at a time when we must remain physically apart. Five artistic companies present a series of inspirational experiences that include innovative uses of technology and engage audiences in unique ways. Offerings include self-led outdoor recreational experiences across Hamilton and interactive digital performances that take place right inside your own home.
ACCESS NOTES: Every show includes some type of digital element, and most require access to the internet. Two shows are digital experiences requiring different levels of physical mobility. One show is a self-led outdoor experience at a specific location requiring physical mobility, weather appropriate dress, and COVID-19 precautions including: wearing a mask, social distancing of 6 feet or more, and groups of less than five (5). Please see individual show listings for additional accessibility information.
Ticket Details
Tickets are available for purchase online and in advance only––if you prefer to book your tickets over the phone, contact the box office and a staff member will set up an appointment with you. Ticket sales end 30 minutes before the performance begins, except for Escape (ticket sales end at 10pm daily). Service charges apply. No performance is longer than 40 minutes and each show plays multiple times a day. Some shows have very limited capacity. By purchasing a ticket to a FROST BITES event, you agree to adhere to all COVID-19 safety protocols, including any special instructions a performance may have.
Hamilton Fringe recognizes that our audiences may be under more financial stress than usual during the pandemic. With this in mind, FROST BITES is using a Pay-What-You-Can-Afford ticketing model for events:
Accessible—$7 + HST (all fees waived)
Regular—$13 + HST + handling fees
Support Frost Bites—$20 + HST + handling fees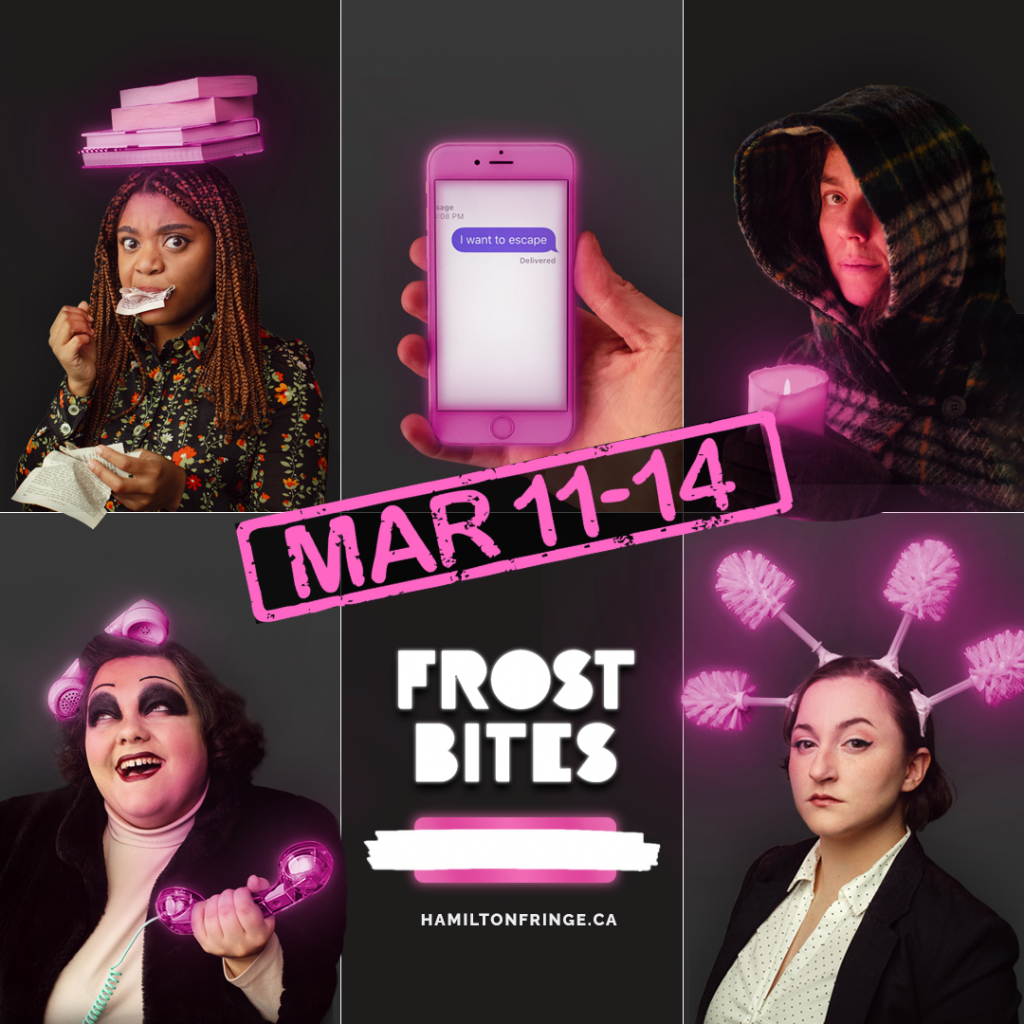 The Frequent Frost Pass is SOLD OUT!
FROST BITES also offers the Frequent Frost Pass, granting access to each event in the festival. Passholders must purchase their pass then reserve their ticket to each show—you can do this all at once OR you can buy your pass in advance and sign in again later to book your tickets.
Please note: some shows have limited capacity and tickets are first-come first-serve; your pass gives you a free ticket each show, but a performance with limited capacity may still sell out, so we encourage you to reserve your tickets early. The Frequent Frost Pass is valid for all performance dates, limit of one ticket per show.
If you'd like to purchase your pass and book your tickets all at once, click the button below to add a pass to your basket (you'll be asked to log in or create a new account), then click on "What's On" to select your shows and add a 'Frequent Frost Passholder' ticket to your basket (limit: one per event). If you've already bought your pass, log in to your account, click "What's On", select your shows, and add a 'Frequent Frost Passholder' ticket to your basket (limit: one per event). You can book multiple events by returning to "What's On" and adding new tickets to your basket. You can purchase additional single tickets at Pay-What-You-Can-Afford pricing as desired.
SOLD OUT—FREQUENT FROST PASS: $45 + HST (all fees waived!)
Have you bought tickets to a Hamilton Fringe event in the past? Click on "Log In", you can use the same email address when you've purchased in the past, and select "I forgot my password" to reset your password. Once you've updated your account, you can start buying tickets!
What about…
Got a few more questions? We're here for you. You can reach our remote box office staff via email or by leaving a voicemail.
Email: boxoffice@hamiltonfringe.ca | Phone: 289-698-2234 (Voicemail Only)
Regular Box Office Hours
Monday to Friday, 10am-4pm daily (response within one business day)
Festival Box Office Hours—March 11-14
Thursday to Sunday, 10am-9pm daily
FROST BITES
Remote Box Office

Email Us
boxoffice@hamiltonfringe.ca
Leave a Voicemail
289-242-3745
10am-9pm
response within one hour

response within two hours
after 9pm
response the following day

response the following day